European Rapier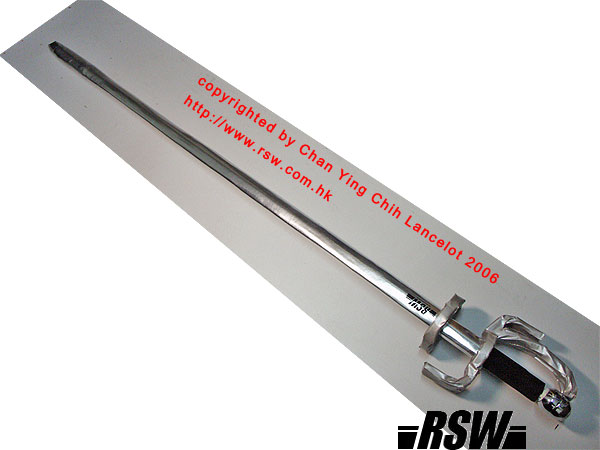 Price: 1233 HKD / 172.62 USD (with flexible tip)
Sold: 20
16th and 17th century was the renaissance period for Europe. The city was built with narrow pathways in order to prevent invaders to travel in pack. A new civilian weapon, rapier, was evolved to cope with the environment, which was a single handed thrusting sword with a longer reach than most of the cut and thrust swords. Sometimes the edge of rapier was not as sharp as the cut and thrust sword and its attacks mostly concentrate around the penetrating tip. The balance of the sword was set to optimize thrusting ability. The complex hilt was not only protective against cuts but could also set aside thrusts. Rapier was very popular in Europe and was the far ancestor of modern fencing.
Realistic Sparring Weapon's Rapier was modeled after a historical example that featured a long blade. The complex hilt's functionality was simulated. The sparring sword's blade was also adjusted to reduce the weight of the blade and to imitate the thinner profile of the real sword, thus it was not suitable for chopping motion.
Specifications (slight variance occurs due to the nature of handmade)
Overall Length: 46.5"
Blade Length: 38.8"
Weight: 3 lbs
Center of gravity: 3" from the guard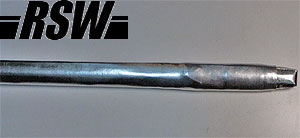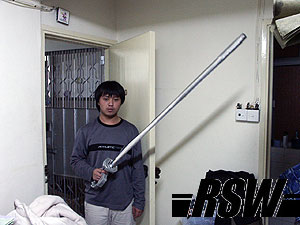 The rapier's hilt, tip and it's actual length.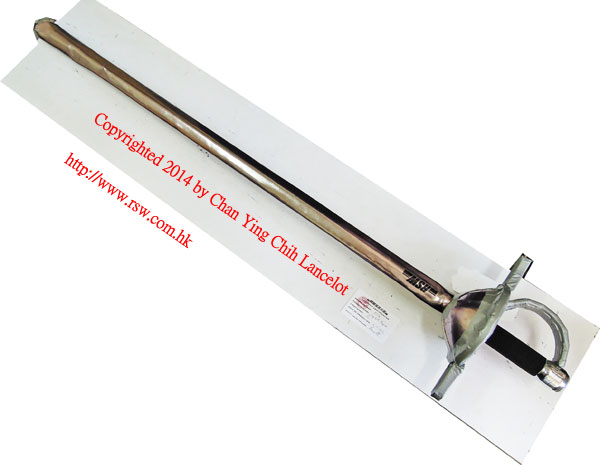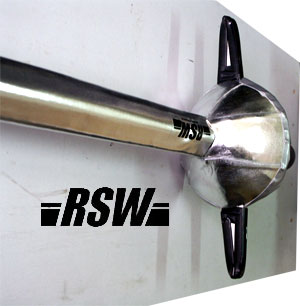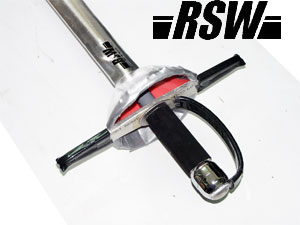 Specifications (slight variance occurs due to the nature of handmade)

Overall Length: 46.5"

Blade Length: 38.8"

Weight: 2 lbs 7 oz

Center of gravity: 5.5" from the guard
We'll repair the battle damage of your blade for 390 HKD. If you want the guard renewed also, it would be 440 HKD. The repair service excludes broken core.
The guard will be padded with foam for free by default. Shown below is an example of foam padding: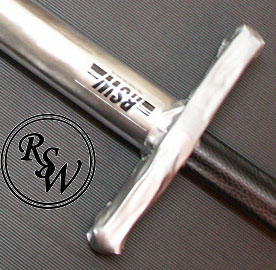 Or padded with rubber with the cost 60HKD / 8 USD. It is more attractive and durable than the foam padding. Shown below is the examples of rubber padding.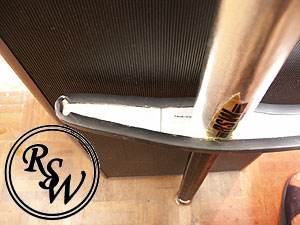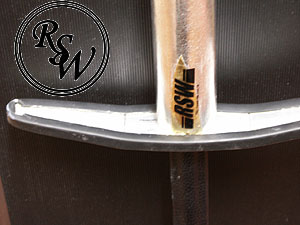 For international order, we accept payment through PayPal. Please email for details.
Disclaimer: By placing an order, the buyer represents that the products ordered will be used in a lawful manner. Lancelot Chan Ying Chih will not be held liable for the misuse of any product purchased from us or any of our distributors & dealers. You agree to indemnify and hold harmless either the company, its owners, investors, board members, and staff against any and all claims, demands, actions, or proceedings, resulting in injury, death or damages, losses, and/or liabilities, costs and expenses, including attorney fees, relating to or arising out of any claim asserted by you against the aforementioned companies.